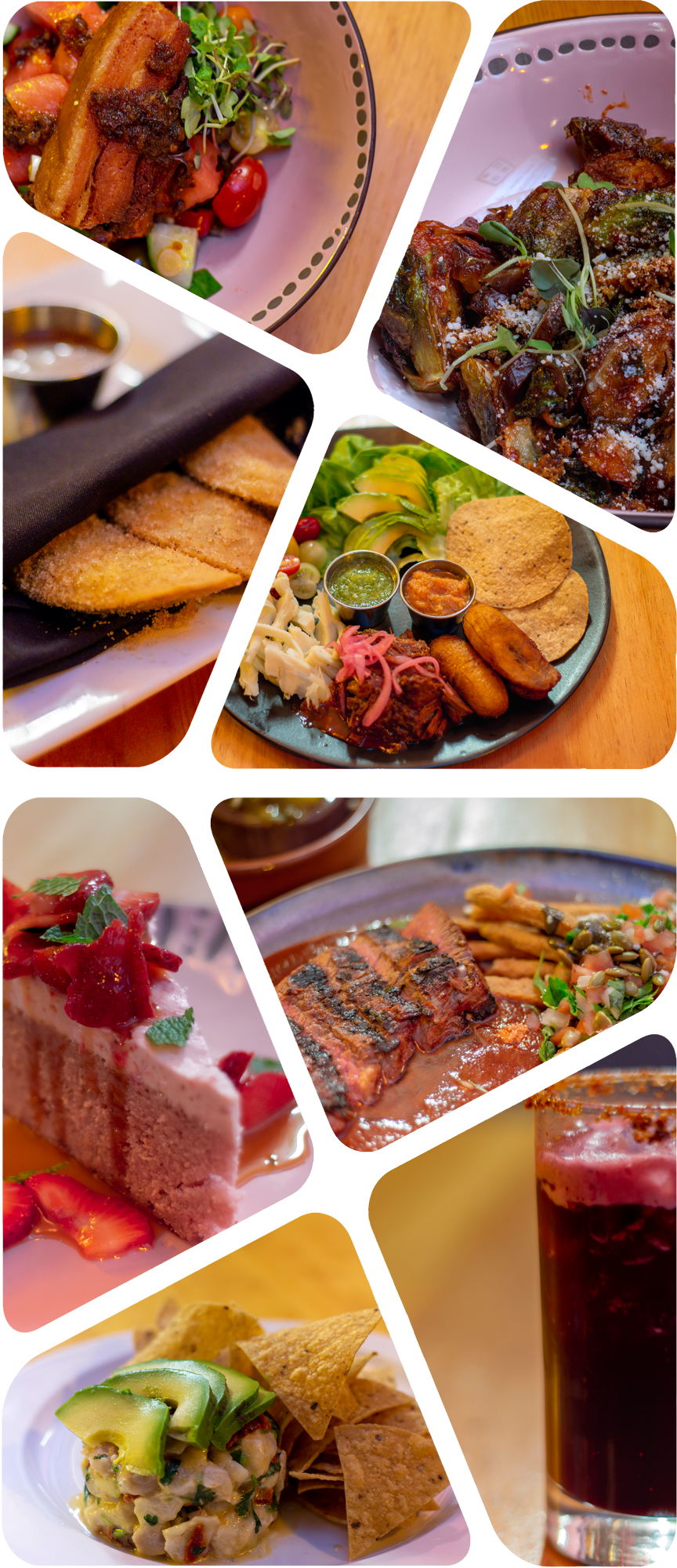 BYO beer, wine and tequila only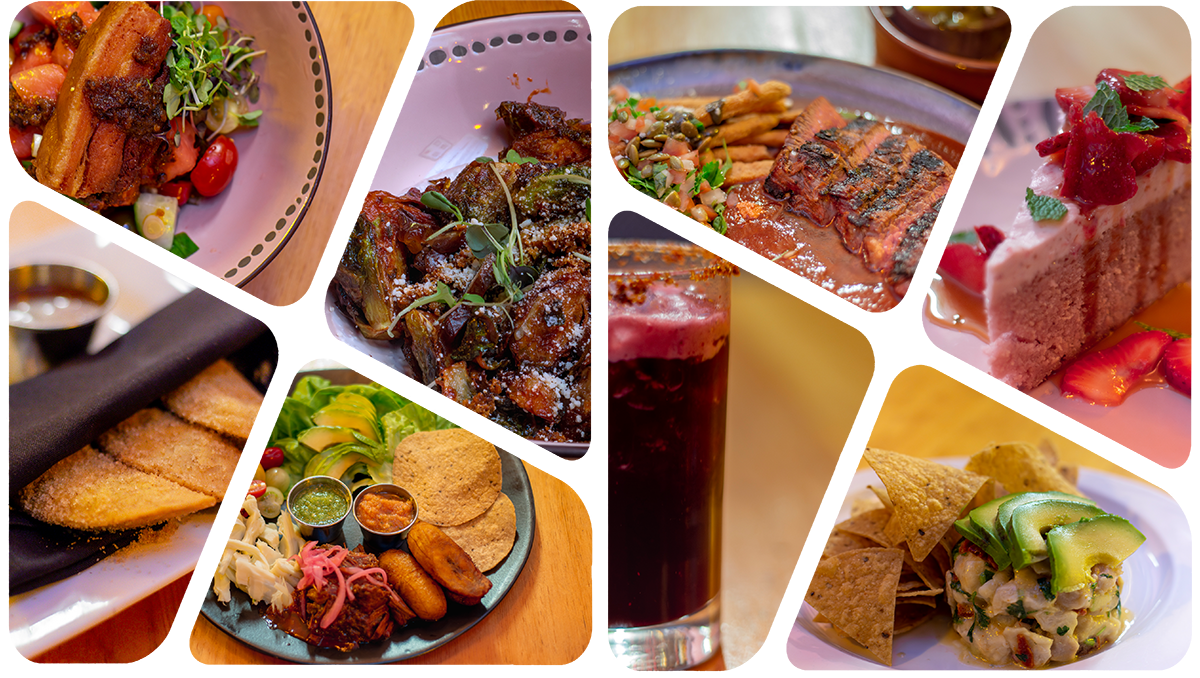 ---
Guacamole ..... $11.95
Chunky guacamole with classic garnishes; crispy tostadas
Young Greens
.....
$15.95
Roasted poblano dressing, orange, pickled onion, cucumber, avocado and roasted pepitas
Roasted Carrots ..... $19.50
Truffle burrata, fennel salsa verde
Wild Mushrooms..... $20.95
Al pastor, coconut sweet potato purée, guacasalsa, pineapple pico de gallo
Roasted Brussel Sprouts ..... $18.75
Elotes style, chipotle glaze, chorizo, queso
Memelas ..... $17.50
corn masa memelas, black beans, aged goat cheese, arbol salsa and dressed arugula
Enchiladas Potosinas ..... $16.95
Goat cheese filling, guacasalsa, crema, queso fresco
Flautas ..... $16.95
Flautas stuffed with chicken thigh and rajas; chipotle sauce, pickled cabbage, carrots and crema
Flank Steak ..... $29.95
Guajillo, roasted new potatoes, crispy onions
Pork Ribs ..... $25.95
Honey pasilla sauce, radishes, crema and queso fresco
Plato Placero ..... $28.95
Beef brisket, daily salsas, queso oaxaca, roasted plantains, tostadas, lettuce cups
Roasted Pork Belly ..... $25.95
Morita apple sauce, walnut butter, celery apple salad
Roasted Lamb Rack ..... $35.95
Coffee mole, black kale salad, peanuts, black lentils, pomegranate, sesame
Jarritos Soda ...... $4.00
Glass bottle Coca Cola ...... $5.00
Topochico ...... $5.00
Canned Diet Coke ...... $3.00
Virgin Sangria Pitcher ...... $13.00
House Limeade Pitcher ...... $19.00
Hibiscus Limeade Pitcher ...... $18.00
Chocolate-Chile Mousse ..... $11.95
Spiced goat cheese center and toasted marshmallow sauce
Sweet Empanadas ..... $11.95
Peanut butter filling, dulce de leche and oaxacan chocolate
Flan ..... $11.95
Hibiscus flan, seasonal compote, candied pepita
Chef's Dessert of the Day ..... $11.95
Please Note
• We accept limited reservations every day.
• Limit one 750ml bottle or one pack of beer per party of two.
• Due to limited space we please ask that you not bring coolers into the restaurant.
• No outside food or non alcoholic beverages. And please, no vodka, rum, or whiskey.
• To make reservations, please e-mail info@chilambalamchicago.com
• Gift certificates are available for purchase.
• Chilam Balam is a cash only restaurant.
The chicago department of public health advises that consumption of raw or undercooked foods may result in an increased risk of foodborne illness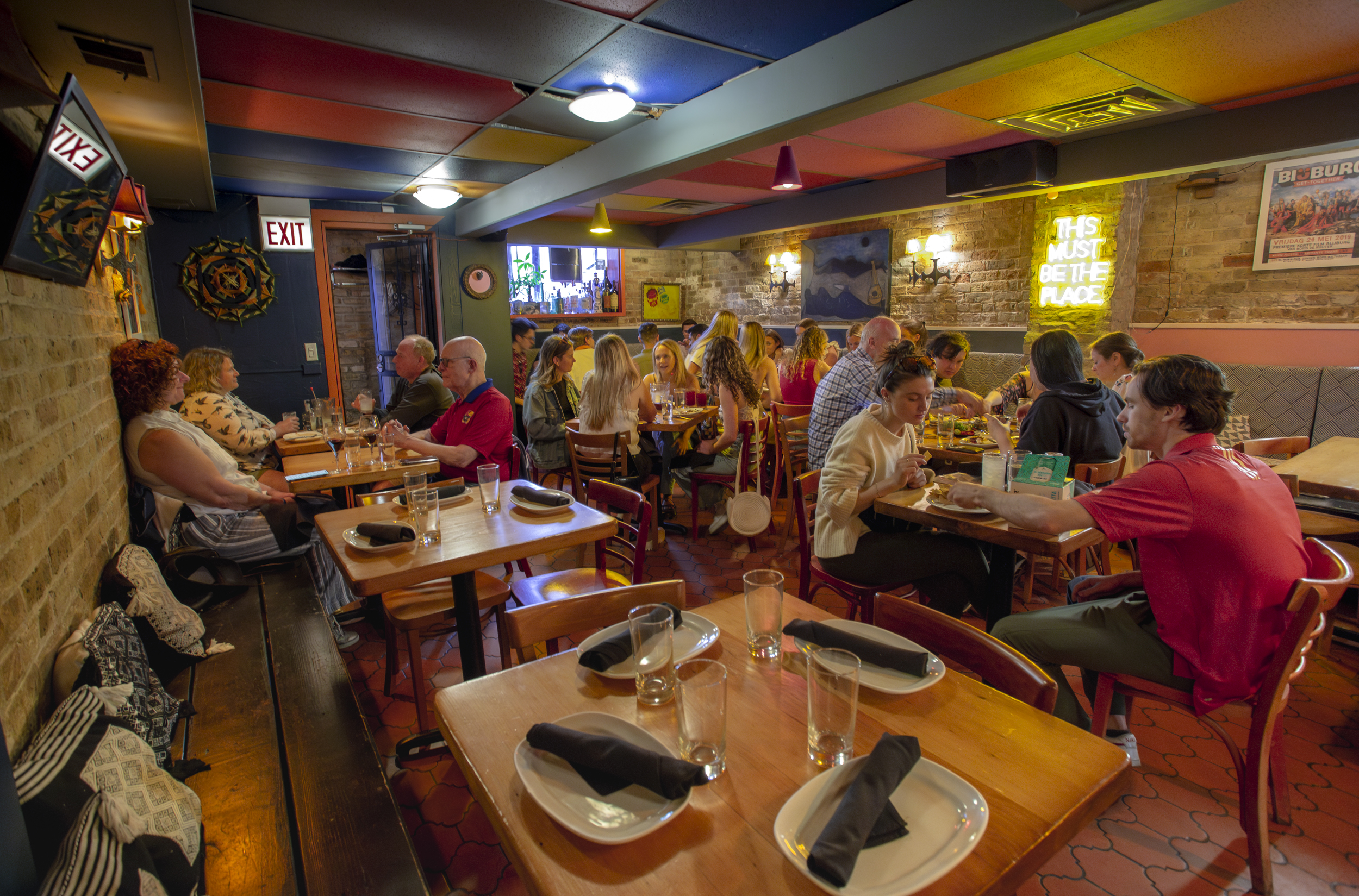 Chilam Balam is a sustainably minded BYOB restaurant serving Mexican shared plates with a farm fresh twist. We strive to provide the tastiest and freshest ingredients while preparing our dishes and other aliments without unnatural additives and ingredients (corn syrup, msg, etc). All of our dishes are designed to share at the table; you can either take a little piece, make a taco out of our fresh tortillas, or top one of our handmade tostadas. Most of the dishes on our menu also happen to be gluten free.
Guy Know's What's Up
Guy Fieri knows good food and boy was he right about Chilam Balam!🔥🔥🔥 No idea what these yuppies are complaining about in the reviews, if you want amazing, unique, delicious food, in Chicago, give Chilam a try, you will NOT be disappointed! The service was on point!! The Brussels sprouts app is a MUST, absolutely amazing and you know how most of the time you don't get dessert at a restaurant because you're too full? Yeah, no...the sweet empanadas are to die for...do your tastebuds a favor, and visit Chilam Balam at your earliest convenience!!! 🤤
- Andrey R.
AMAZING!!!
It was an amazing experience!! They have traditional Mexican dishes, but with an elegant and creative twist. You can't go wrong with the food here. The attention and service is very good, Luis, the waiter who attended us, was very attentive to us. I love the BYOB option! Highly recommended.
- Alma D.
Absolutely UNREAL.
Absolutely unreal. What a true hidden gem! I was here on a busy Saturday evening, the place was packed and they handled my large party with such care and excellence. We did the tasting menu and there wasn't a single detail I didn't love. I was introduced to the owner, Sariah and she was such a sweetheart who truly cares about every detail of the food and service. You can taste every ounce of passion she exudes into her little cafe! I am so excited to go back soon. Truly a meal I will never forget
- Samuel M.

Monday  -  Closed
Tuesday  -  5:00PM - 9:00PM
Wednesday  -  5:00PM - 9:00PM
Thursday  -  5:00PM - 9:00PM
Friday  -  5:00PM - 10:00PM
Saturday  -  5:00PM - 10:00PM
Sunday -  Closed

Email: info@chilambalamchicago.com
Phone: 773.296.6901

Copyright © Chilam Balam | All Rights Reserved