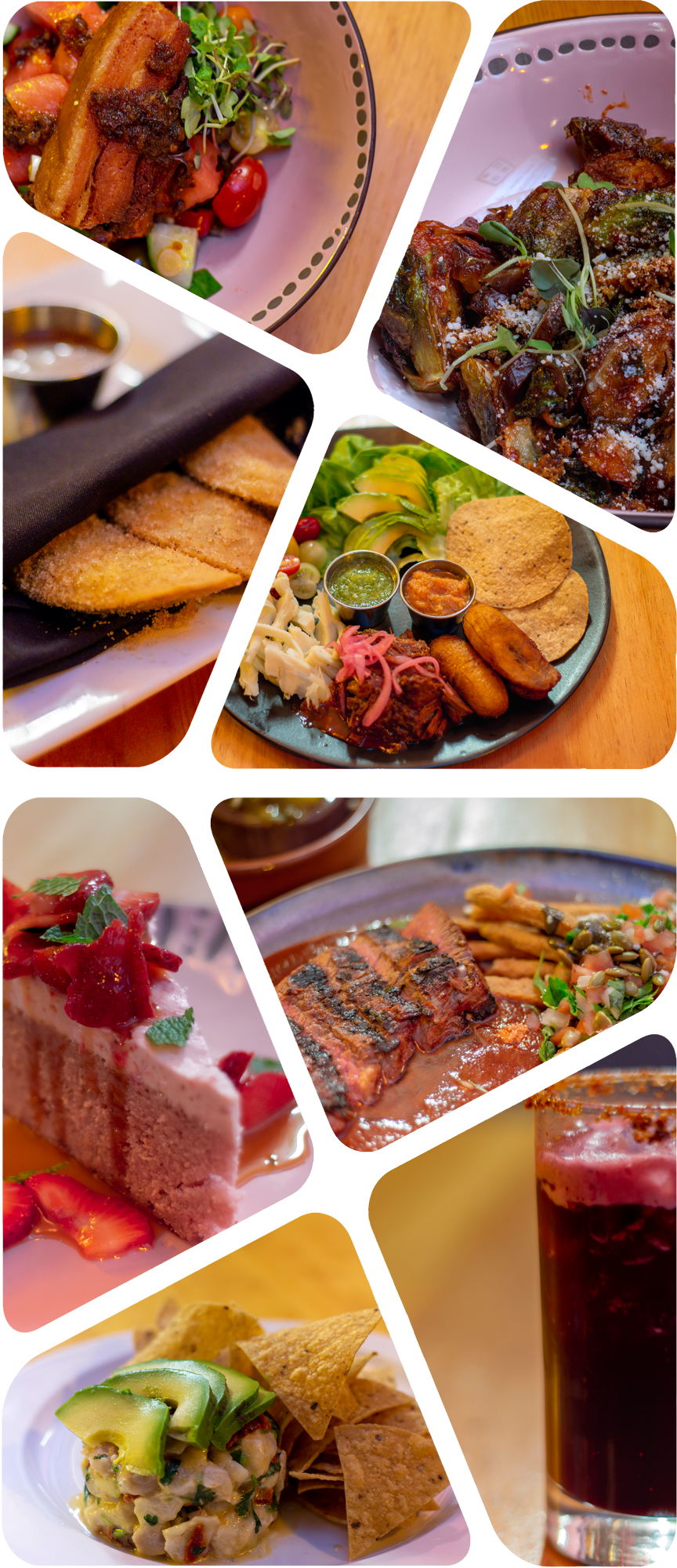 BYO beer, wine and tequila only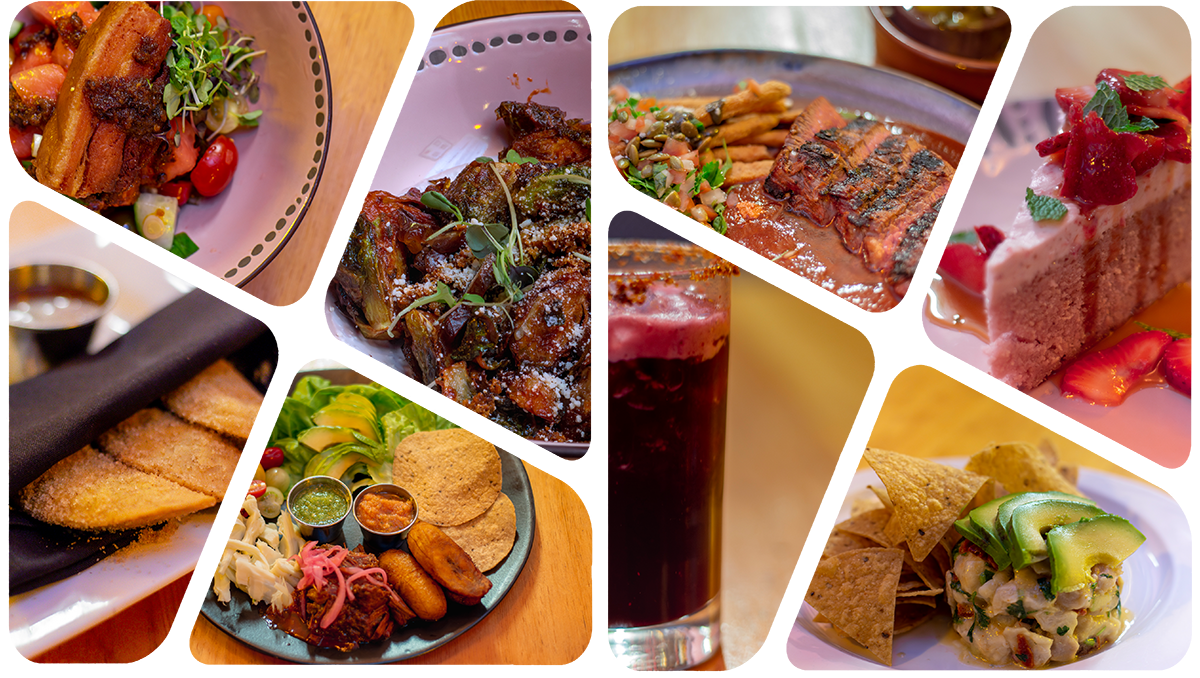 ---
Guacamole ..... $11.95
Chunky guacamole with classic garnishes; crispy tostadas
Young Greens
.....
$15.95
Roasted poblano dressing, orange, pickled onion, cucumber, avocado and roasted pepitas
Roasted Carrots ..... $19.50
Truffle burrata, fennel salsa verde
Wild Mushrooms..... $20.95
Al pastor, coconut sweet potato purée, guacasalsa, pineapple pico de gallo
Roasted Brussel Sprouts ..... $18.75
Elotes style, chipotle glaze, chorizo, queso
Memelas ..... $17.50
corn masa memelas, black beans, aged goat cheese, arbol salsa and dressed arugula
Enchiladas Potosinas ..... $16.95
Goat cheese filling, guacasalsa, crema, queso fresco
Flautas ..... $16.95
Flautas stuffed with chicken thigh and rajas; chipotle sauce, pickled cabbage, carrots and crema
Flank Steak ..... $29.95
Guajillo, roasted new potatoes, crispy onions
Pork Ribs ..... $25.95
Honey pasilla sauce, radishes, crema and queso fresco
Plato Placero ..... $28.95
Beef brisket, daily salsas, queso oaxaca, roasted plantains, tostadas, lettuce cups
Roasted Pork Belly ..... $25.95
Morita apple sauce, walnut butter, celery apple salad
Roasted Lamb Rack ..... $35.95
Coffee mole, black kale salad, peanuts, black lentils, pomegranate, sesame
Jarritos Soda ...... $4.00
Glass bottle Coca Cola ...... $5.00
Topochico ...... $5.00
Canned Diet Coke ...... $3.00
Virgin Sangria Pitcher ...... $13.00
House Limeade Pitcher ...... $19.00
Hibiscus Limeade Pitcher ...... $18.00
Chocolate-Chile Mousse ..... $11.95
Spiced goat cheese center and toasted marshmallow sauce
Sweet Empanadas ..... $11.95
Peanut butter filling, dulce de leche and oaxacan chocolate
Flan ..... $11.95
Hibiscus flan, seasonal compote, candied pepita
Chef's Dessert of the Day ..... $11.95
Please Note
• We accept limited reservations every day.
• Limit one 750ml bottle or one pack of beer per party of two.
• Due to limited space we please ask that you not bring coolers into the restaurant.
• No outside food or non alcoholic beverages. And please, no vodka, rum, or whiskey.
• To make reservations, please e-mail info@chilambalamchicago.com
• Gift certificates are available for purchase.
• Chilam Balam is a cash only restaurant.
The chicago department of public health advises that consumption of raw or undercooked foods may result in an increased risk of foodborne illness


Monday  -  Closed
Tuesday  -  5:00PM - 9:00PM
Wednesday  -  5:00PM - 9:00PM
Thursday  -  5:00PM - 9:00PM
Friday  -  5:00PM - 10:00PM
Saturday  -  5:00PM - 10:00PM
Sunday -  Closed

Email: info@chilambalamchicago.com
Phone: 773.296.6901

Copyright © Chilam Balam | All Rights Reserved